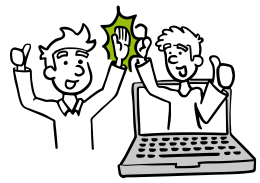 Fun online meetings that yield results, it's something you can learn
"Our online meetings are well organised technically, but do not yield enough."
"I know that online collaboration is here to stay. How do we make our regular online sessions fun again?"
"I provide online training. How do I really keep the group engaged?"
Do you want to know and experience how to make online sessions more fun and dynamic? How you really connect with each other, have more relaxed meetings and achieve your goals. How to really start collaborating again through Teams, Zoom or another tool instead of staring at a screen and always trying to keep everyone engaged.
Do you want online meetings that fly by? Dynamic team sessions that leave you energised?
Then the Effective Online Meetings training is perfect for you!